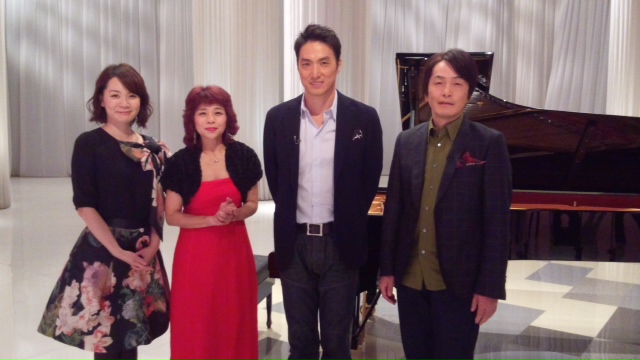 The pianist was invited to the public television network NHK: "ら ら ら ♪ ク ラ シ ッ ク" (La, la, la, ♪ Classic), dedicated in present classical music.

The emission was from 29 November to 1 December. Hisako Hiseki played "Lavapies" from Suite Iberia from Isaac Albéniz.
The program La, la, la, ♪ Classic works like this: the presenter Mino Kabasawa and also a grand pianist and composer, shows the most technical and artistic aspect from the composer they treat in the program, like Chopin, Beethoven, Stravinsky or Albéniz in the case of the Hisako's program.
The other presenter of hte program is Ira Ishida, a japanese writer very well-known. He treats the most affective and human part of the composers and historic interpreters and also of the guests of the program.
In this program, one of the guests was Takehiro Hira, an international actor famous for his participation in TV series, movies and theatrical roles. The other guest was Hisako Hiseki who was interviewed about her life and her motivations to study spanish music (we don't have to forget that she is a specialist in spanish music and she is a disciple of Alicia de Larrocha); and they made Hisako Hiseki perform and analyze an Albéniz's sheet music to make it closer to the spectators. She made a masterful class about the subject.
This is one of the programs that japanes public television broadcast about classical music in a educational way and that look into detail.